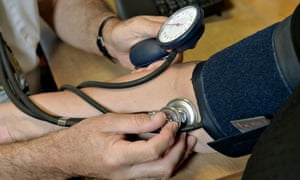 'NHS GPs are now managing 150,000 more consultations every day than five years ago.' Photograph: Anthony Devlin/PA
The NHS is one of the country's most treasured institutions. It represented a real advance for the health of the nation and its provision of free, universal healthcare for all is admired throughout the world. But its future is under serious threat. There have been many local campaigns established to defend services threatened with privatisation or closure. But there must be a response on a national level. Starting last month with the relaunch of the People's March for the NHS, there have been a series of events that will culminate in a People's Convention for the NHS on 11 April.
The aim is to unite the broadest coalition possible, bringing together health workers, campaign groups, trade unions, health activists, pensioners groups and others with one common aim – to save our NHS.
The convention is being organised around five key demands. 1) Repeal the Health and Social Care Act to halt and roll back the privatisation of the NHS. No to TTIP. 2) End the NHS funding freeze: increase spending to meet growing need for healthcare. 3) No more unsafe cuts and closures to save money. 4) Don't let PFI costs kill off local services – renegotiate on the basis of fair value. 5) A fair deal and fair pay for NHS staff.
Steve Sweeney Founder, People's Convention for the NHS
David Babbs 38 degrees
Ken Loach Film director
Rufus Hound Actor/comedian
Michael Sheen Actor
Stephen Mangan Actor
Lord David Owen
Frances O'Grady General secretary, TUC
Dave Prentis General secretary, Unison
Len McCluskey General secretary, Unite
Paul Kenny General secretary, GMB
Sam Fairbairn National secretary, People's Assembly Against Austerity
Dot Gibson General secretary, National Pensioners Convention
Moz Greenshields TUC trade union councils committee
Professor Clare Gerada Former chair of the council of the Royal College of General Practitioners
Dr Jacky Davis BMA Council
Dr David Wrigley GP, Carnforth
Dr Kailash Chand
Dr Clive Peedell Co-leader, National Health Action party/consultant oncologist
Grahame Morris Labour PPC, Easington
Rehana Azam GMB national officer/co-founder, People's March/Vote for the NHS
Jos Bell Chair, London Socialist Health Association
Dr John Lister Director, London Health Emergency
Professor Sue Richards Co-chair, Keep Our NHS Public
Dr Aysha Raza Organiser, Ealing Save Our Hospitals
Dr Richard Taylor
President, Independent Community and Health Concern party
Carolyn Jones Institute of Employment Rights
Dr Helen McArdle GP
Dr Alex Scott-Samuel Senior clinical lecturer in public health, University of Liverpool
Rob Griffiths General secretary, Communist Party of Britain
Martin Quinn Tavistock Keep Our NHS Public
Ben Chacko Acting editor, Morning Star
Dr Ray Tallis
Romayne Phoenix Co-chair, People's Assembly Against Austerity
Ann Leonard York Save Our Hospitals
Martin Booth Stop the NHS Sell-Off in Cambridgeshire
Professor Wendy Savage
Merril Hammer Chair, Hammersmith and Charing Cross Save Our Hospitals
Bill Greenshields The People's Charter
Dr Tricia Barnett Islington Keep Our NHS Public
Anita Wright National Assembly of Women
Harsev Bains National secretary, Association of Indian Communists GB
Dyal Bagri National president Indian Workers' Association GB
There are those who know just how valuable the NHS is and those who believe they will live healthily for ever. It is this latter group that inhibits the government from raising the cost of providing adequate funding for the NHS. I suggest a hypothecated tax along the lines of Germany's reunification tax, raised to help with the enormous cost of bringing two countries together. This is a small supplement to income tax and collected with income tax. For the NHS such a tax, called perhaps the NHS rehabilitation fund or something similar, would signify both need and approval. Talking to people on the street in Ipswich, I was left in no doubt of the belief that the NHS is a vital and noble institution and of the desire to see that it is adequately funded.
Richard Payne
Ipswich
•

Almost one in five (3.7m) visits to A&E a year are for minor ailments, such as coughs, colds, muscular pain or allergies, that could be managed safely and effectively at home or with advice from a pharmacist. It is estimated these visits cost the NHS £290m a year. This is on top of the 57m GP appointments every year for similar conditions, costing an additional £2bn and diverting care away from the people who really need it.
There has been a huge increase in demand for A&E services over the past decade, and GPs are now managing 150,000 more consultations every day than five years ago. This pressure on overstretched GPs and A&E departments is having a negative impact on patient outcomes, increasing waiting times and creating workforce problems. With an ageing population, growing numbers of people with long-term conditions and an increase in lifestyle-related diseases, this pressure on the health system will only become more intense.
We are, therefore, calling on the next government to work with the NHS to empower people to take better care of themselves. To do this, we need national leadership to co-ordinate selfcare policy across the NHS and medicines regulation that is people-centred. In addition to this, there should be renewed efforts to make sure the NHS directs people towards the most appropriate clinical setting and investment in campaigns to raise people's awareness of the option to self-treat. Making these important changes will result in a healthier population, a stronger workforce and a more sustainable NHS.
Matthew Speers Chief executive, Proprietary Association of Great Britain
Professor John Ashton President, UK Faculty of Public Health
Ash Soni President, Royal Pharmaceutical Society
Dr Peter Smith Vice president, National Association of Primary Care
Sue Farrington Chair, Patient Information Forum
Professor Ian Banks President, European Men's Health Forum
Dr Patricia Wilkie Patient advocate
Sara Richards Practice nurse educator
Dr Knut Schroeder Bristol GP
Dr Selwyn Hodge Former chair, Royal Society for Public Health
•

The idea of patients paying charges to use basic NHS services (Warning: 'Pay-NHS is coming', 4 April) assumes continuation of existing NHS parameters. However in March the King's Fund revealed the scandal that UK funding of the NHS had fallen to 7.3% of GDP. In 2002 the Wanless report recommended that the then expenditure of 7.7% should rise to 9.4% in 2007-08, 10.5% in 2012-13 and 10.9% in 2017-18.
Germany and France spent respectively 11.3 and 11.7% of GDP on health in 2012. The projected UK GDP for 2015 is £2 trillion. An increase of 2.7% of GDP to bring NHS expenditure from 7.3 to 10% would provide an extra £54bn per annum. If austerity limited the increase from 7.3 to 9%, which is the level many had assumed was current, there would be an extra £34bn a year. Both figures more than meet the projected shortfall of £30bn by 2020.
Morris Bernadt
London
•

How is it possible for anyone to be taken in by the government's desire to increase the role of private businesses in the provision of healthcare? Yourcomparison of healthcare spending (30 June 2012) shows the UK spent 9.6% of GNP, the US 17.9%. The UK spent $3,480 a head, the US $8,362.
At today's exchange rate, a family of three would have to find, whether through taxes or insurance premiums, an additional £9,000 a year. More assiduous readers will no doubt find more recent figures. Doctors (or businesses) may find this appealing. Patients should not. Incidentally, the government of the US seems to have spent $4,437 a head; would that ours did, rather than the 2012 figure of $2,919.
Nicholas Hampson
Richmond, Surrey
•

'Pay-NHS is coming' is what I and the National Health Action party and others have been warning for some time. I'd like to say more, but must get out leafletting.
David Murray
Wallington, Surrey
•

This article was amended on 7 February 2015 to correct the spelling of Dr Clive Peedell's name and to clarify the description of him.