More than 100 senior health professionals write in a personal capacity outlining their view of how the NHS in England has fared under the coalition.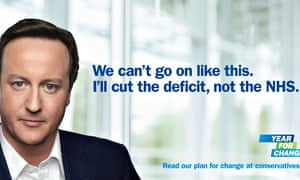 Pledge to protect the NHS … a Conservative party election poster from 2010
After five years of a government which pledged to protect the NHS, this election campaign makes it timely to assess its stewardship, since 2010, of England's most precious institution. Our verdict, as doctors working in and for the NHS, is that history will judge that this administration's record is characterised by broken promises, reductions in necessary funding, and destructive legislation, which leaves health services weaker, more fragmented, and less able to perform their vital role than at any time in the NHS's history.
In short, the coalition has failed to keep its NHS pledges.
Mental health and primary care are faring no better – with both in disarray due to funding cuts and multiple reorganisations driven by ideology, not what works. Public health has been wrenched out of the NHS, where it held the ring for coordinated and equitable services for so long.
Throughout England, patients have been left queueing in ambulances and NHS trusts have resorted to erecting tents in hospital car parks to deal with unmet need.
The NHS is withering away, and if things carry on as they are then in future people will be denied care they once had under the NHS and have to pay more for health services. Privatisation not only threatens coordinated services but also jeopardises training of our future healthcare providers and medical research, particularly that of public health.
The way forward is clear: abolish all the damaging sections of the Health and Social Care Act 2012 that fragment care and push the NHS towards a market-driven, "out-for-tender" mentality where care is provided by the lowest bidder. Reversing this costly and inefficient market bureaucracy alone will save significant sums. Above all, the secretary of state's duty to provide an NHS throughout England must be reinstated, as in Scotland and Wales.
As medical and public health professionals our primary concern is for all patients.
We invite voters to consider carefully how the NHS has fared over the last five years, and to use their vote to ensure that the NHS in England is reinstated.
Dr Sheila Adam former deputy chief medical officer for England
Dr Gwen Adshead consultant psychiatrist
Prof George Alberti emeritus Professor of Medicine, University of Newcastle
Dr James Anderson consultant psychiatrist
Prof Sabarantnam Arulkumaran former president Royal College of Obstetrics and Gynaecology
Prof John Ashton retired director of public health
Dr Ashok Atrey GP
Dr Helen Bailey physician in Sexual Health and HIV
Dr Arun Bakshi emeritus consultant physician, Isle of Man
Dr JS Bamrah consultant psychiatrist
Mr Dipak Banerjee retired consultant opthalmologist
Dr Roger Banks psychiatrist in intellectual disability, former vice-president Royal College of Psychiatrists
Dr Helen Bantock senior lecturer and consultant paediatrician
Dr David Bareford retired consultant haemotologist
Dr Vijay Bathla GP
Dr Naomi Beer GP partner
Prof Richard Bentall professor of clinical psychology, University of Liverpool
Dr Morris Bernadt retired consultant psychiatrist
Dr Naureen Bhatti GP and associate dean, London Professional Support Unit
Prof Dinesh Bhugra consultant psychiatrist and former president Royal College of Psychiatrists
Dr Christopher Birt University of Liverpool and Christie hospital, Manchester
Dr Kambiz Boomla GP and former chair City and East London Local Medical Committee
Dr Raymond Grown consultant paediatrician
Dr Laurence Buckman GP and former chair UK General Practitioners Committee
Dr Chris Burns-Cox emeritus consultant physician, Bristol
Dr Marta Buszewicz GP and senior lecturer in general practice
Prof Simon Capewell professor of public health, University of Liverpool
Dr Lucy Carterm GP
Dr Lyn Challands retired GP
Professor Sir Iain Chalmers coordinator, James Lind Initiative
Dr Kailash Chand GP and former NHS trust chair
Dr Connie Chen GP clinical lead for prescribing and child health, Central Manchester CCG
Prof Carolyn Chew-Graham
Dr Jonathan Coates GP
Dr Tom Coffee GP
Prof Michael Coleman professor of epidemiology
Prof Peter Crome emeritus professor
Dr Jack Czauderna retired GP
Dr Jonathan Dare retired consultant child and adolescent psychiatrist, Maudsley hospital
Dr Paquita de Zulueta honorary senior clinical lecturer, Imperial College London
Dr Nicholas Dennis retired, clinical genetics
Dr EdgarDorman consultant obstetrician and gynaecologist, London
Dr Ross Dyer-Smith clinical lead, Lambeth CCG director
Dr David Elliman consultant, community child health
Dr Katrina Erskine consultant gynaecology and obstetrics, Homerton University hospital, London
Dr George Farrelly GP
Dr Katherine Fielder GP
Dr Peter Fisher
Dr Paul Fleming consultant anaesthetist
Dr Lindsay Forbes senior lecturer in cancer and public health
Prof Robbie Foy professor of primary care, University of Leeds
Dr Andrea Franks consultant dermatologist, Chester
Prof Linda Gask emirita professor of primary care psychiatry, University Of Manchester
Dr Clare Gerada GP and former chair, Royal College of General Practitioners
Dr Colin Godber consultant old age psychiatry
Dr Michael Gopfert
Prof Trisha Greenhalgh professor of primary care, University of Oxford
Dr Rex Haigh consultant psychiatrist in medical psychotherapy
Dr Phil Hammond associate specialist paediatric chronic fatigue service, Bath
Dr David Hawkins consultant physician
Dr Iona Heath GP and former president, Royal College Of General Practitioners
Dr Robert Hugo consultant psychiatrist
Dr Christopher Jenkins GP
Prof Roger Jones editor, British Journal of General Practice, emeritus professor of general practice, King's College, London
Dr Coral Jones GP
Dr Fred Kavalier GP
Dr Mohammed Salah Khalifa GP
Dr Surendra Kumar GP
Dr Dianne Levevre consultant psychiatrist
Dr Jasvinder Singh Lidder consultant psychiatrist
Prof Karina Lovell professor of mental health
Dr Simon Lowes specialist registrar clinical radiology
Dr Sahira Mahmood locum GP
Dr Nick Mann GP and NHS osteopath
Dr Chris Manning convener Action for NHS Wellbeing
Prof Martin McKee professor of European public health
Dr Helene McKeon GP
Dr John Middleton independent public health physician
Dr Sally Mitchison retired consultant psychiatrist
Dr Roger Neigbour GP and former president, Royal College of General Practitioners
Dr Julia Nelki child psychiatrist Cheshire & Wirral Partnership Trust
Dr David Nicholl consultant neurologist
Dr Maureen O'Leary retired consultant psychiatrist
Dr Tony O'Sullivan consultant paediatrician, Kaleidoscope – Lewisham Centre for Children & Young People
Dr Sophia Osbourne GP
Dr David Owen
Dr Tim Paine former president, National Association for Patient Participation
Prof Allyson Pollock professor of public health
Prof Hiliary Powers professor of nutritional biochemistry and head of oncology, University of Sheffield
Dr Umesh Prabhu consultant paediatrician
Dr Shibley Rahman academic in dementia, Primrose Hill
Dr Braham Prashara GP
Dr Dan Rainbow GP and locality commissioner
Dr Paul Revell consultant haematologist
Dr Brian Rossiter retired consultant physician
Dr Yvette Saldanha GP trainer
Dr Alex Samuel senior lecturer in public health, University of Liverpool
Professor Wendy Savage retired senior lecturer in obstetrics and gynaecology
Dr Gabriele Scally public health consultant
Dr Parveen Sharma consultant psychiatrist
Mr Virender Sharma consultant ENT Surgeon
Dr Caroline Shulman
GP for homeless and inclusion health, Kings Health Partners
Dr Kamal Sidhu GP
Dr Martin Siebert GP
Dr Surinder Singh GP
Dr Francis Skiffington retired consultant community paediatrican
Dr Alison Smailes GP
Mr Virender Soni ophthalmologist
Dr John Sweeney consultant physicia
Prof Raymond Tallis emeritus professor of geriatric medicine, University of Manchester
Dr Jonathon Tomlinson GP
Dr Charlie Tomson consultant nephrologist
Dr David Tomson GP
Dr Norman Traub former consultant haematologist, Southend hospital
Dr Asha Umrawsingh emergency care doctor, Lewisham University hospital
Dr Devaraja Vedakkalur GP
Dr Ian Walton GP
Dr Fiona Watson GP
Dr Eric Watts retired consultant haemotologist and clinical director
Prof Jonathon Weber professor of infectious diseases, Imperial College London
Dr Tara Weeramanthri GP
Dr Sian Williams consultant in occupational medicine
Dr David Wrigley GP
Dr Luke Zander retired GP